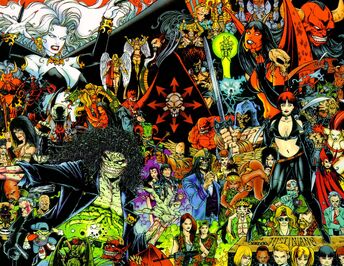 CHAOS! COMICS IN THE MEDIA
Chaos! Comics was a comic book publisher that operated from 1992 until 2002, mostly focusing on horror comics. Their titles included Lady Death, Purgatori, Evil Ernie, Chastity, Jade, Bad Kitty, and Lady Demon. Chaos! creators included Brian Pulido, Steven Hughes, Al Rio, Mike Flippin, Justiniano, and Hart D. Fisher.
Lady Death in the Media
Edit
LADY DEATH THE MOVIE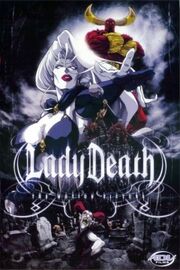 The movie begins in 15th century Sweden. Hope, the beautiful and innocent daughter of Matthias (a skilled mercenary who is in actuality Lucifer himself), is accused of being the devil's consort. Hope is sentenced by the town priest to be burned at the stake. Matthias, through a proxy, offers her life if she surrenders herself to him and joins him in Hell. At first she agrees to his terms, but Matthias's plan to corrupt her is soon met with unanticipated resistance, as Hope rejects his scheme and eventually finds herself transformed into the powerful warrior Lady Death, who challenges Lucifer for control of Hell itself.

Christine M. Auten as Lady Death/Hope
Mike Kleinhenz as Lucifer/Matthias
Andy McAvin as Pagan
Rob Mungle as Cremator
Mike MacRae as Asmodeus, Large Torture Troll
Chris Patton as Niccolo
Dwight Clark as Father Orbec
Maureen McCullough as Marion
Ted Pfister as Elderly Man
Marcy Rae as Elderly Woman
Greg Ayres as Young Man
Jason Douglas as Matthias Guards, Stable Demons
Ben Pronsky as Matthias Guards
John Swasey as General Ahriman, Torture Guards, Demon Priest
James Reed Faulkner as General Utuk Xul
Laura Butcher as Lucifer's Concubines
Marizol Cabrera-Ojeda as Lucifer's Concubines
Shelley Calene-Black as Lucifer's Concubines
Geana Lewis as Lucifer's Concubines
Mary Marquez as Lucifer's Concubines
Adam Colon as Small Tortue Troll
Evil Ernie in the media:
Edit
Evil Ernie is a fictional character, an undead, psychotic killer with his own series, published by Chaos! Comics and Devil's Due Publishing. Originally, Evil Ernie was part of Eternity Comics. He made his debut in December 1991. He was created by writer Brian Pulido and artist Steven Hughes.Evil Ernie was in live action during the 90's at San Diego Comic Con.