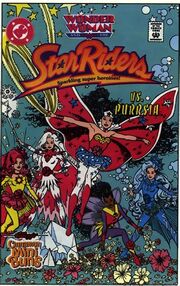 WHAT WE KNOW:
Edit
In 1992, Mattel planned a line of toys for girls with Wonder Woman leading a new cast of four female characters. Two had been previously established: Dolphin in 1968 and Ice in 1988. The other two were new characters invented for the series. Solara had sun-based fire powers while Starlily had earth-based plant powers. "Wonder Woman and the Star Riders" had the subtitle "Sparkling super heroines!" They were to be pitted against the villainess Purrsia (who has animal control abilities) and her mount, Panthera.
An announcement for an accompanying animated series was made during the 1993 Toy Fair, however a pilot was never produced beyond character designs and storyboards. A few test samples for the toy line were developed, as well as a short comic book story which would have been packaged with the figures. A mini comic was distributed as a breakfast cereal premium. Artwork has since been published in Les Daniels' 2000 book, Wonder Woman: The Complete History. The cancelled toy designs were recycled as part of the Tenko and the Guardians of the Magic toy line.
All the Star Riders ride winged horses, and Wonder Woman herself rides a winged unicorn named Nightshine
Community content is available under
CC-BY-SA
unless otherwise noted.