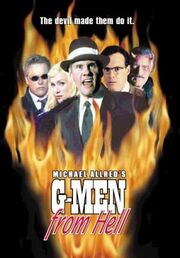 G-MEN from HELL is based on the comic created by Michael Allred and published by Dark Horse Comics. Director Christopher Coppola utilizes a comic book frame for most of the movie and some brilliantly realized colors. You really feel sometimes like you're watching an animated comic book. The story follows two FBI agents who are murdered and sent to hell. They escape and come back to earth as detectives, hoping to do good deeds to earn their way to Heaven.
Their first client is a blond bomshell (Vanessa Angel) whose wealthy husband (Barry Newman) ends up dea.nMattress & Crept are now primes suspects & must stay one step ahead of both the police and the devil himself, who has come to Earth in a hot pursuit of their souls!
Section heading
Edit
Write the second section of your page here.