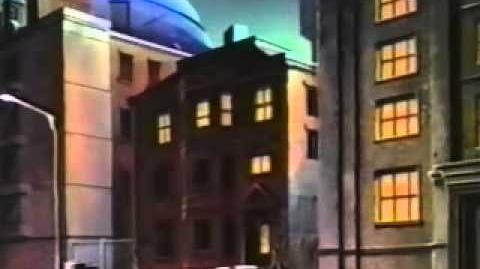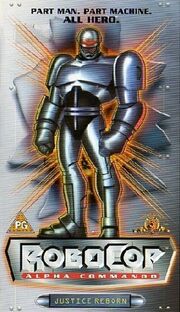 RoboCop: Alpha Commando was a short-lived animated series based on the Orion Pictures film RoboCop and the series/films that followed in the 1980s-1990s. It was the second animated version of the character, following on from RoboCop: The Animated Series. The series premiered on September 7, 1998, and ran until February 3, 1999.
The series is set in the year 2030, and deals with RoboCop being reactivated after five years offline to assist a federal high-tech group, "Alpha Division" in their vigilance and struggle against DARC (Directorate for Anarchy, Revenge, and Chaos), a highly advanced terrorist organization and other forces of evil whenever that may be, globally or nationally.
The series shared many of the same writers who had contributed to the 1980s animated series, but had even less in common with the movies or television canon that it was based on. RoboCop has numerous gadgets in his body that were never in the film, such as roller skates and a parachute. The show also suffers from major continuity errors. In the first episodes we see RoboCop's son in his memories flashback and he appears to be around 10. We later see his son in the series, to be exactly the same age and even wearing the same clothing, as his memories. The names of Robocop´s wife and son were also changed to Susan and Richie.
The absence of Anne Lewis was never explained. Besides RoboCop himself, Sgt. Reed and Alex J. Murphy are the only characters from the movies in the series. Unlike the movies, and previous TV incarnations, RoboCop never takes off his helmet in Alpha Commando.
Episode Guide
Edit
Justice Reborn (1)
Justice Reborn (2)
Justice Reborn (3)
Doppelganger
Town of Tomorrow
Cyber-Fagin
Plague on Ice
Robo Racer
The Hermanator
Robopop
The Weakest Link
Really, Really Big Shoo
A Pretty Girl Is Like a Malady
Francesca's Quest
Power Play
Deep Trouble
Maxsop 4
Oh Tannenbaum Whoa Tannenbaum
We'll Always Have Paris
Best Friends
Garden of Evil
Robodog
Brawl in the Family
Cop Games
H-2-Uh-Oh
Inside Out
The ERG and I
Survival of the Fittest
While You Were Sleeping
Return of the Hermanator
Family Reunion (1)
Family Reunion (2)
Small Packages
Head Games
DARC Secrets
Thank You Very Mulch
Father's Day
Out of the Dark
Das Re-Boot
Talk About the Weather