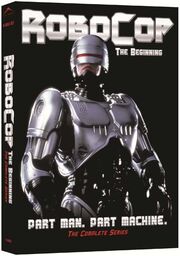 RoboCop: The Series is a 1994 television series based on the film of the same name. It stars Richard Eden as the title character. Made to appeal primarily to children and young teenagers, it lacks the graphic violence that was the hallmark of RoboCop and RoboCop 2. RoboCop has several non-lethal alternatives to killing criminals, which ensures that certain villains can be recurring. The OCP Chairman and his corporation are treated as simply naïve and ignorant, in contrast to their malicious and immoral behavior from the second film onward.
Background
Edit
While RoboCop was initially an American property, Orion Pictures received a $500,000 cash infusion for TV licensing rights to Canada's Skyvision Entertainment. This allowed access to co-production treaties and possible partnerships with other countries. The series was filmed in Toronto and Mississauga, Canada and originally planned for a January 1994 debut, several months after the unsuccessful release of RoboCop 3. Skyvision was also in negotiation with Peter Weller, the original RoboCop, but this did not come to fruition. Twenty-two episodes were made, but the series was not renewed for a second season. Expense played a significant part in this; according to Skyvision VP Kevin Gillis, episodes would be produced at $1.2 million to $1.5 million each.[1]
The pilot episode runs two hours. It was adapted from a discarded RoboCop 2 script, Corporate Wars, by the writers of the original RoboCop, Edward Neumeier and Michael Miner.
Villains on the series include Boppo the Clown, Dr. Cray Z. Mallardo, OCP executive Chip Chayken, William Ray Morgan aka Pudface, Vlad Molotov.
The series gave writers more of an opportunity to develop the central characters and to extend the human interest aspect through the introduction of Gadget; the station mascot and the adopted, insightful daughter of station Sergeant Parks. Gadget, along with the presence of Jimmy Murphy did much to shift the focus from the adult to the youth target audience. The writers also introduced an element of virtual romance and deus ex machina in the persona of Diana, formerly a secretary to crooked Vice-President Chip Chayken, who becomes transmogrified through her death into the 'face' and 'body' of Metronet, OCP's city-running super-computer.[2]
Many of the characters' names were altered from their movie counterparts due to rights issues.