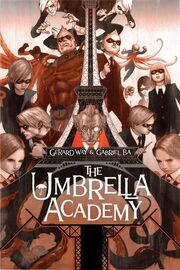 The members of the Umbrella Academy, a disbanded group of superheroes, reunite after the death of their adoptive father, Sir Reginald Hargreeves, a.k.a. "The Monocle." Hargreeves, an alien disguised as a famous entrepreneur, who collected the members of the Umbrella Academy shortly after their same day of birth, training them to save the world from an unspecified threat. After his death, the members carry on his plan to save the world.
What we know:
Edit
A film version of The Umbrella Academy has been optioned by Universal Studios. Originally, screenwriter Mark Bomback was hired to write the screenplay, however in 2010 it was announced that Rawson Marshall Thurber had replaced him and was reworking the script.
There has been little talk of the film since, and no release date has been set. Recently, in an interview with Newsarama at the 2012 New York Comic Con, Way mentioned that there have been "good talks" and a "really good script", but that it was "kind of up to the universe".
Section heading
Edit
Write the second section of your page here.