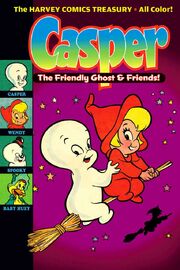 The Harveytoons Show is a
television series
presenting
theatrical
animated cartoons
produced from October 1950 until March 1962 and produced by
Famous Studios
, featuring
Harvey Comics
characters and series including:
Little Audrey
,
Casper the Friendly Ghost
, Tommy Tortoise and Moe Hare,
Baby Huey
,
Herman and Katnip
, and
Modern Madcaps
. The
Film Roman version
of
Richie Rich
and
The New Casper Cartoon Show
have also been featured on the final season of
The Harveytoons Show
. The show itself contained three full cartoons and one "ToonTake", an abbreviated cartoon.
Jerry Beck
was the show consultant
HarveyToons
Edit
Here you willbe able to follow the Harvey Comics in there media.
BABY HUEY
CASPER
HOT STUFF
LITTLE AUDREY
RICHIE RICH
WENDY THE GOOD WITCH
Famous Studios
1958 Noveltoons

1947

Santa's Surprise

1980 Richie Rich
1958 Casper
Film Roman
1963 The New Casper Cartoon show
1948 Popeye: Olive Oyl for President
1963 Casper
Hanna-Barbara specials

1948 

Butterscotch and Soda




Universal Studios Casper
Simpsons
2007 Scare School
Metlife
Metlife
Netflix Richie Rich
Dreamworks
Section heading
Edit
Write the second section of your page here.