MARVEL COMICS IN THE MEDIA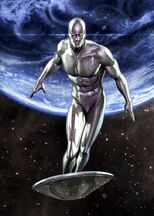 Believe it or not, In the early 1980s, a movie was almost made that sounds so ridiculous that you probably won't believe it.
In a film that would have starred Olivia Newton John (though not in the titular role, obviously) and potentially been scored by Paul McCartney, the Silver Surfer could well have been adapted in to a sort of rock opera with a fanfare made up of "one thousand guitars."
Sadly, the idea never came to pass, as Lee Kramer – the potential producer, producer of Olivia Newton John's 1980 movie Xanadu and her manager at the time – decided to pursue and focus on other projects, especially after the poor reception Xanadu received at the box office.
Would it have worked? God knows, but it would either have been absolutely awful or a stroke of brilliant genius.
Community content is available under
CC-BY-SA
unless otherwise noted.