GUARDIANS OF THE GALAXY IN THE MEDIA

Thor is the Asgardian God of Thunder and the son of Odin, All-Father of Asgard, and Gaea, the Elder Earth-Goddess. Combining the power of these two worlds, Thor is one of the greatest defenders of both . Thor is the mightiest warrior of Asgard, a founding member of the Avengers and one of the most powerful beings on Earth.
THOR ODINSON in the media
THOR CORPS in the media
It all started when a evil man named Zarrko tricked the Thor of the future. The Thor from the future was Dargo. Zarrko tricked Dargo into the past to battle the present Thor. The Thor from the present was Thunderstrike. After they started to fight another Thor appeared. He went by Beta Ray Bill. After Beta Ray Bill stopped the violence he had a solution. They decided to form a group called Thor Corps. Now the team was going to go after Zarrko. Zarrko wanted to become the all master of time. That's when the Thor Corps who at that time were calling themselves hammer brothers went to Zarrko's ship. Many villains were pulled from the time stream to stop the Hammer Brothers including people like Loki and Skurge. But, Loki did not want to be controlled like the others. So he turned on Zarrko which led to his downfall. After that was done Beta returned all the Thors to their original time before the ship exploded. 
ASGARDIANS in the media
NEIL GAIMAN'S ANGELA:
Angela is a fictional comic book character created by author Neil Gaiman and artist Todd McFarlane. She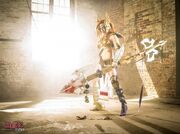 first appeared as a supporting antagonist in McFarlane's creator-owned series Spawn, making her debut in issue #9 (March 1993). She proved to be a popular character, and later starred in her own self-titled miniseries. Angela was later the subject of a legal battle between McFarlane and Gaiman over the rights to the character, which saw Gaiman victorious. She would later appear in books published by Marvel Comics, beginning with the 2013 "Age of Ultron" storyline, with her character expanded on in Guardians of the Galaxy. (Wikipedia)